Summer Program for Arithmetic, Reading and Knowledge!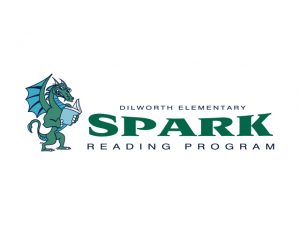 SPARK is a summer academic program with two goals. The first is to promote reading and math skills during the summer. The second is to fund the PTA operating budget.
Funds raised through SPARK go towards school events such as DragonFest and Art Showcase, staff appreciation, InReach for students in need, classroom materials, and many other items. Students that participate in SPARK can enter to win prizes during our celebration in the Fall. Our Dilworth Dragons logged an impressive 22,000 hours of reading and math in the summer of 2020. We hope to exceed that number this year!
How SPARK Works:
Spring
Help your child set a goal for the number of hours he/she plans to read and practice math skills over the summer.
Ask family members or special friends to pledge an amount of money per hour of summer skills work or make a flat donation.
Find out if your employer will provide a corporate match.
Donation pledges are not required to participate.
Fill out PLEDGE FORM ONLINE.
Summer
READ AND PRACTICE MATH!!
Get creative – Listen to books on tape, do flash cards and workbooks, read aloud to your child, play Scrabble, Boggle, Bananagrams, or other educational board or computer games.
Please print the TALLY SHEET and help your child keep track of his or her hours.
Track your hours between May 26, 2021 and AUGUST 24, 2021.
Join us for SPARK in the Park at Latta Pavilion in JULY (4:30-5:30pm) – This event is tentative and will be confirmed or canceled in June.
Fall
Pledge forms will be returned by email.
Tally summer reading and math hours and collect pledged dollars from sponsors.
Submit pledges and enter actual hours on online form (September 15th – September 26th).
Celebrate your success at the SPARK Day assembly in October (Sedgefield Campus – October 15, 2021 and Latta Campus October 22, 2021

)

All Dilworth families are welcome to participate.
Questions?
Kim Spencer, Brooke Russell and Julie Jones
Forms and Helpful Links:
A Special Thank You to Our SPARK Sponsors!