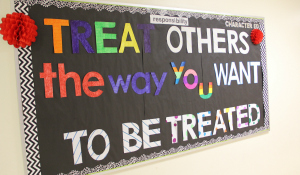 As Dilworth Dragons, we strive to demonstrate our Character Education traits in all areas of our lives.  Service Learning projects offer a special opportunity to talk about, practice, and implement these traits in our community.
Our Service Learning projects for the 2018-2019 school year were:
Kindergarten
Kindergarten students, along with the rest of the Sedgefield Campus, collected diapers and wipes to help families impacted by Hurricane Florence.  This donation drive brought in over 3,700 diapers and 8,100 wipes which were then delivered to The Diaper Bank of North Carolina.
First Grade
First Grade students used the newly-built Sedgefield Campus garden beds to grow herbs to support Friendship Trays.  Parent volunteers and groups of First Graders helped tend to the gardens throughout the year.
Second Grade
Second Grade students collected cleaning supplies and decorated holiday placemats for the Dilworth Soup Kitchen.  The director of the Dilworth Soup Kitchen visited the Second Grade classrooms and taught a lesson on the history of the Soup Kitchen and its importance to the community.
Third Grade
Third Grade students collected food, clothing, and kitchen supplies for The Relatives youth shelter and took a walking field trip to the shelter to deliver their donations and tour the shelter.
Fourth Grade
Fourth Grade students collected various items for the Humane Society for its animal shelter.  A representative from the Humane Society presented to the Fourth Grade classrooms, and a PTA parent's rescue dog attended the presentation and visited with the children.
Fifth Grade
Fifth Graders raised over $400 by organizing a Latta Campus Penny Drive.  Proceeds from the drive were given to The Lunch Project, a Charlotte based non-profit organization that provides hot lunches for school children in Tanzania.  Prior to the drive, a representative from The Lunch Project visited with the Fifth Grade students to share information about the mission of The Lunch Project.
Schoolwide
Following a lesson in their Spanish classes, all DES students had the opportunity to participate in the International Pulsera Project by purchasing a handmade Nicaraguan bracelet.  Proceeds from the sale went to the International Pulsera Project which supports programs offering long-term solutions to poverty in Nicaragua.